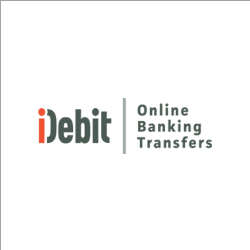 Best iDebit Online Casinos
About iDebit
iDebit is a fast and secure online real–time payment mechanism that connects consumers to their online banking directly from the merchant's checkout page, allowing you to make payments without a credit card. To make a deposit to the online casino account, or pay for goods and services, you have to register a new iDebit account and log in as a guest. The system will transfer you to your bank's online payment system, where you have to identify with credentials obtained earlier and approve any specific transaction.
In order to use iDebit, you have to be over 18 years of age and must have an account in a bank that supports this payment processor. At the moment, financial institutions from more than 20 countries around the globe can help you register and use iDebit. Even though you can make payments and deposit as you wish, note that not all countries allow withdrawals. Signing-up is free of charge, but you will have to pay a small fee of €1 when making online payments.
Our range of iDebit Casino establishments gathers more information about bonus and promotional offers for which you can qualify through this payment processor, so please check it and see the latest additions.
Discover more Payments