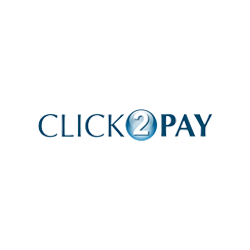 Best CLICK2PAY Online Casinos
About CLICK2PAY
Click2Pay is an international payment system with a center in Germany, which is the intermediary between your card or bank account and the organization with which you want to pay. You can deposit money into a Click2Pay account using a credit card or a bank transaction. Accordingly, funds needed to qualify for a bonus are debited directly from your card.
Founded in 2003 and a part of the Wire Card AG (a fairly large banking company specializing in electronic payment systems and banking services with shares quoted on the Frankfurt Stock Exchange), Click2Pay is especially useful when a direct deposit or a transaction through a mediatory service is not possible due to local regulations in a player's country of residence.
This electronic wallet is very easy to use and completely safe. All personal data is protected and no additional costs are involved in transferring money. After registering for Click2Pay, you need to verify your new account through after a phone call from the system support service. Confirm your identity and the data entered during registration and you will be ready to use Click2Pay.
The number of online establishment offering this payment solution is growing and you can find them all in our Click2Pay Casino section. This is where you can learn more about related deals and offers.
Discover more Payments